Create an account
Your first step is to set up an Analytics account unless you already have one. Skip to Create a GA4 property unless you want to create a separate account for this website. For example, you might want to create another account if this website belongs to a separate business.
1st
In Admin, in the ACCOUNT column, click Create Account.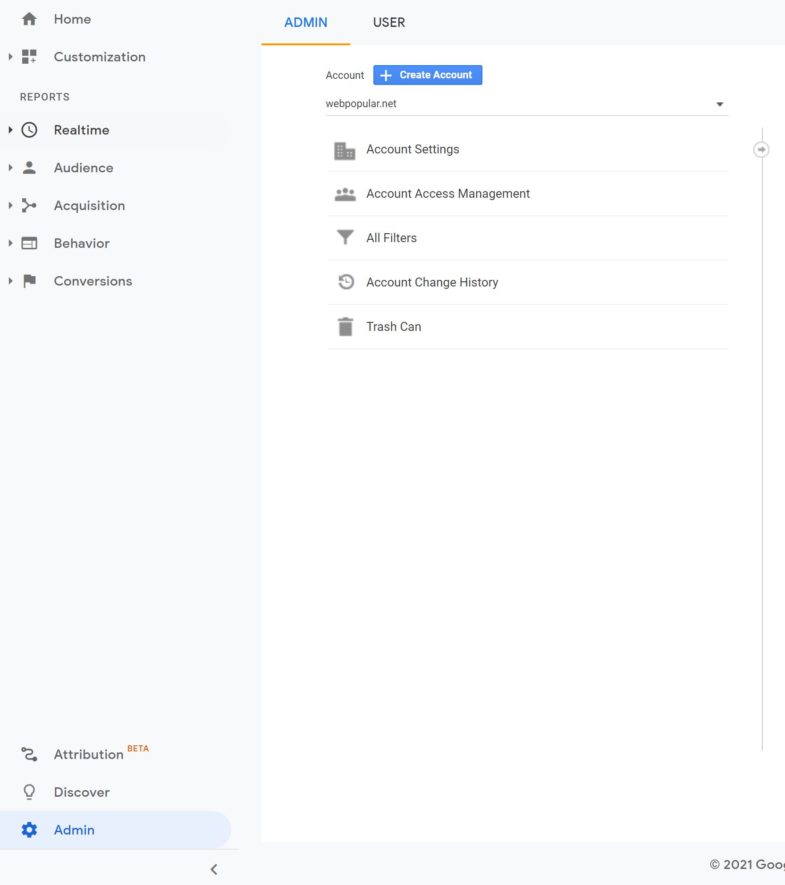 2nd
Provide an account name. Configure the data-sharing settings to control which data you share with Google.
3rd
Click Next to add the first property to the account.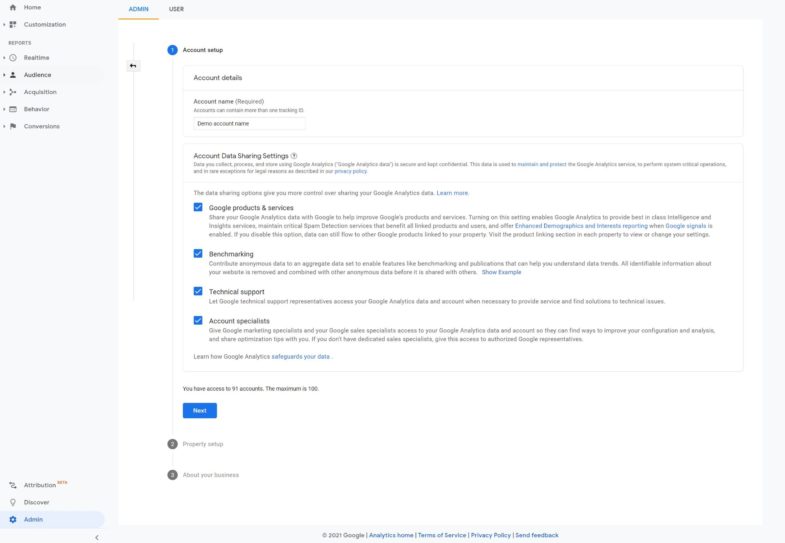 Create a GA4 property
1st
Enter a name for the property (e.g. "My Business, Inc website") and select the reporting time zone and currency. If a visitor comes to your website on a Tuesday in their time zone, but it's Monday in your time zone, the visit is recorded as having occurred on Monday.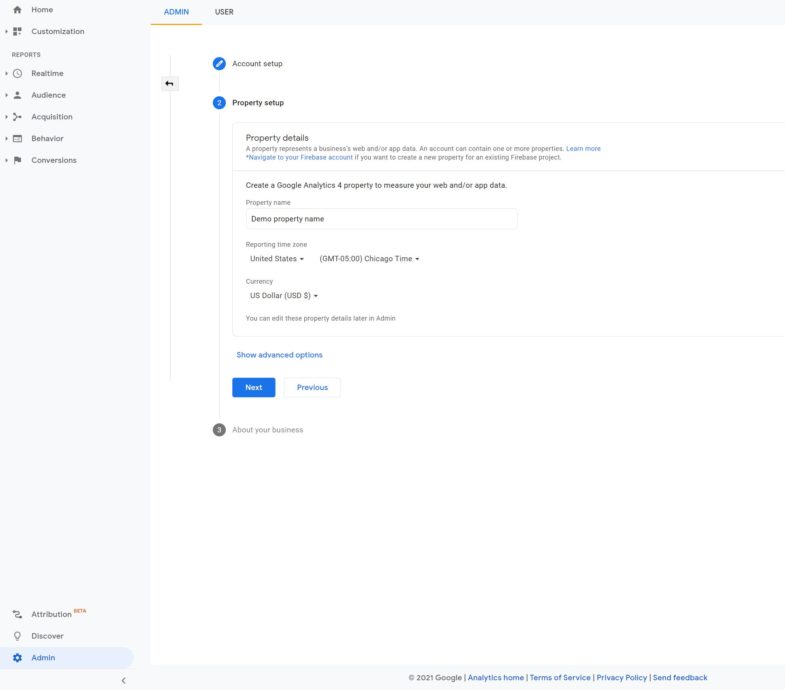 2nd
Click Next. Select your industry category and business size.
3rd
Click Create and accept the Analytics Terms of Service and the Data Processing Amendment.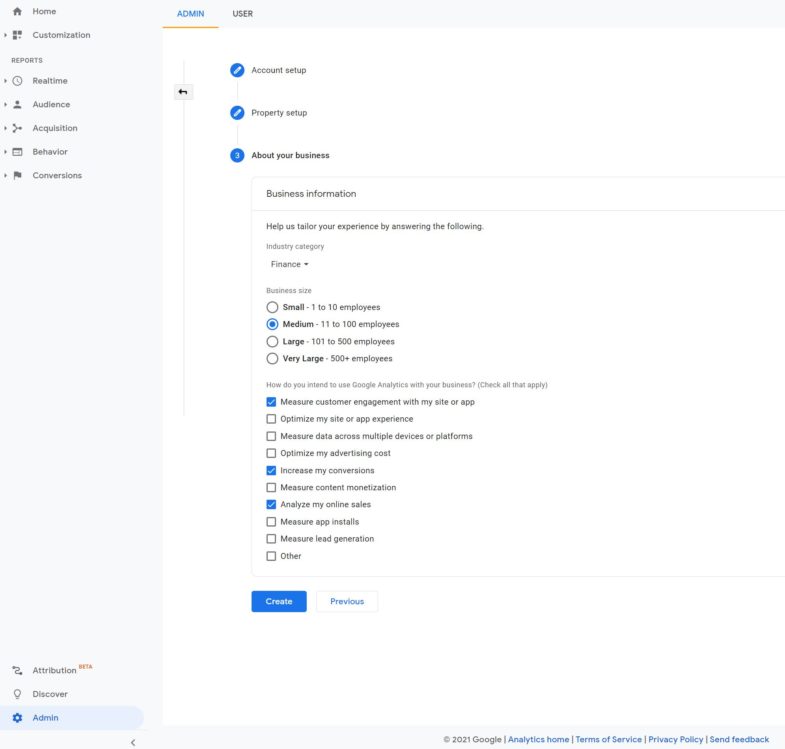 Adding a data stream
1st
Click Admin.
2nd
Look at the ACCOUNT column to make sure that you have your desired account selected
3rd
Look at the PROPERTY column to make sure that you have your desired property selected.
4th
Under PROPERTY, click Data Streams > Add stream.
5th
Click on Web.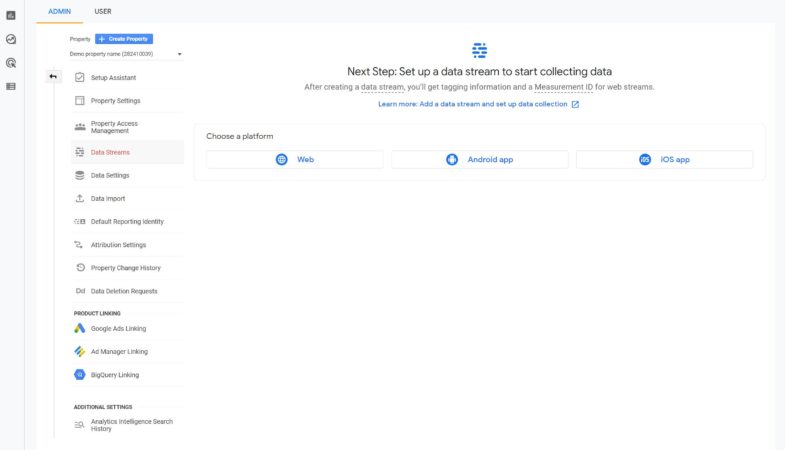 6th
Enter the URL of your primary website, e.g., "example.com", and a Stream name, e.g. "Example, Inc. (webstream)".
7th
You have the option to enable or disable enhanced measurement. Enhanced measurement automatically collects page views and other events. Once the data stream has been created, you can always go back and individually disable the enhanced measurement events you don't want to collect.
8th
Click Create stream.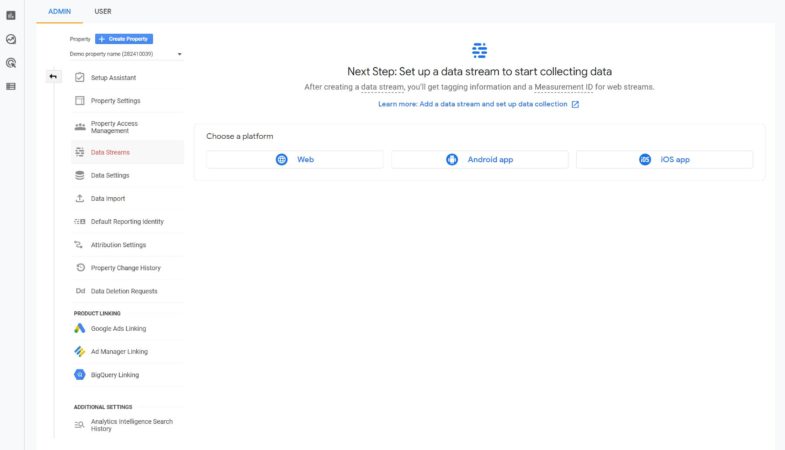 Set up data collection
1st
Click Admin.
2nd
In the PROPERTY column, check that you have your new Google Analytics 4 property selected, then click Data Streams, then Web. Click the data stream.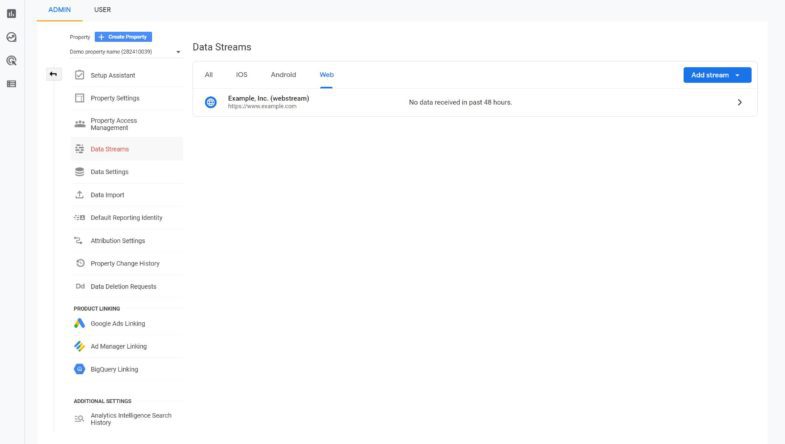 3rd
Under Tagging Instructions, click Add new on-page tag and look for "Global Site Tag (gtag.js)". Your Analytics page tag is the entire section of code that appears, beginning with:
<!-- Global Site Tag (gtag.js) - Google Analytics -->
and ending with
</script>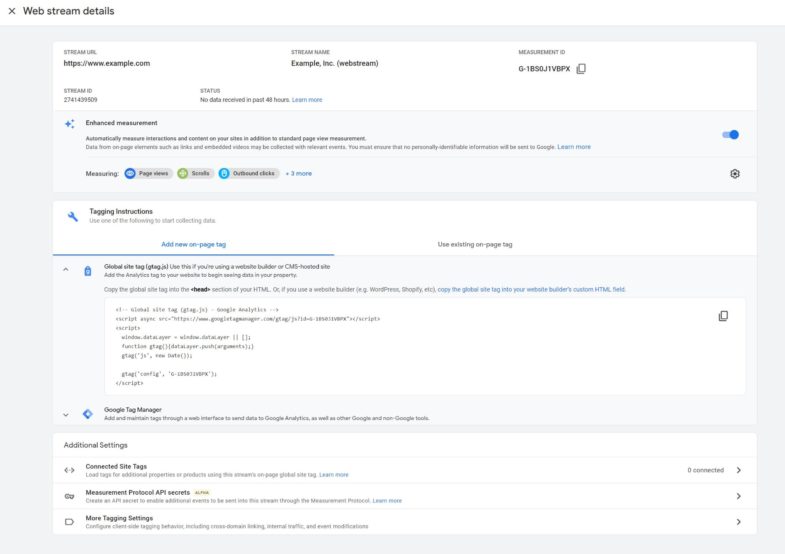 4th
Copy and paste your entire Analytics page tag immediately after the <head> on each page of your website.
It may take up to 30 minutes for data collection to start. You can then use the Realtime report to verify that you're receiving data.