Introduction to Core Safety
Core Safety is a National Provider of Workplace Safety Training, Consulting, and Staffing Solutions. They offer customized solutions for training needs, with on-site training nationwide, and online training options. Core Safety also provides environmental health and safety (EHS) professionals, both temporary and long-term, nationwide. By using SEO or Search Engine Optimization we were able to help Core Safety in getting the web traffic they deserve.
What is SEO (Search Engine Optimization)?
SEO stands for search engine optimization, which is a set of practices designed to improve the appearance and positioning of web pages in organic search results. Because organic search is the most prominent way for people to discover and access online content, a good SEO strategy is essential for improving the quality and quantity of traffic to your website.
The results they received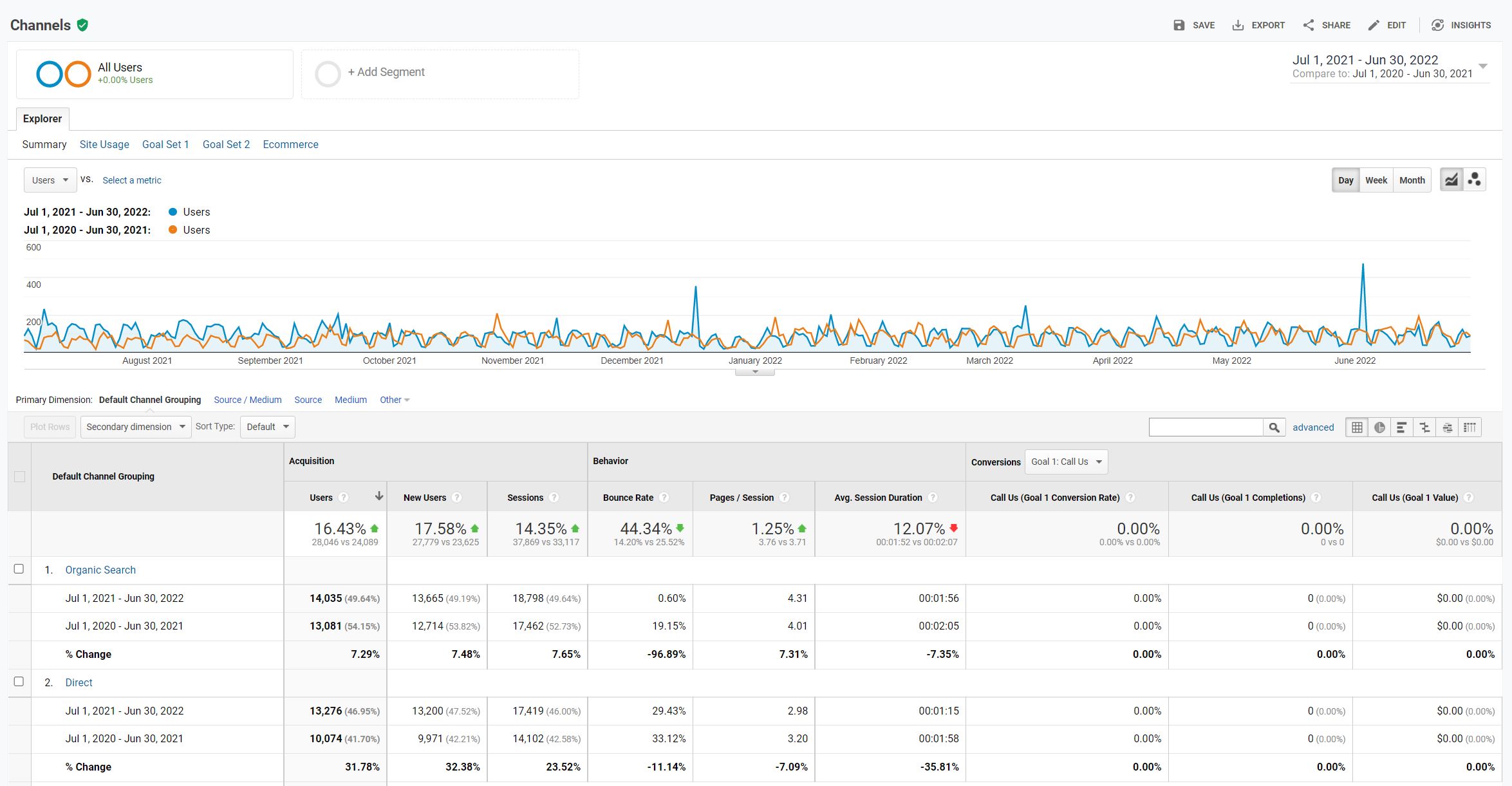 When comparing one year period (July 1, 2021 – June 30, 2022) to the last period (July 1, 2020 – June 30, 2021), Google Analytics shows us that Core Safety has increased Users, New Users, and Sessions for both organic (7.29% – 7.65%) and direct traffic (23.52% – 32.38%). SEO helps drive organic traffic but after visitors find what they are looking for we can convert them to frequent visitors, hence why we are using direct traffic as well. As a cherry on top, we have also managed to lower the bounce rate.
Organic absolute numbers
Users recent period 14,035 vs last period 13,081
New Users recent period 13,665 vs last period 12,714
Sessions recent period 18,798 vs last period 17,462
Bounce Rate recent period .6% vs last period 19.15%
Direct absolute numbers
Users recent period 13,276 vs last period 10,074
New Users recent period 13,200 vs last period  9,971
Sessions recent period 17,419 vs last period 14,102
Bounce Rate recent period 29.43% vs last period 11.14%
Other SEO results we can extract
Using various SEO tools such as SEMrush we are able to gather more results for Core Safety.
62% of our keywords are non-branded.
most of their traffic comes from people intending to find a specific page or site.
70 of our tracking keywords are in the top 10 position.
How did we achieve this
As mentioned before SEO tools can help us measure, track and even help us make decisions by finding SEO issues. Generally, the following will help better your organic traffic.
Track metrics with Google Analytics and/or other SEO tools
Create new content based on keyword research
Optimize images
Make sure your site is mobile-friendly
Improve your page loading speed
Use meta descriptions
Create alt tags for your images
Use appropriate headings
Use internal linking
Build backlinks to your website
We want to help you
Last thoughts, SEO is a long-term investment but is much more sustainable and can create loyalty among visitors. This takes the expertise and time in the subject to make sure your website gets the traffic you deserve. webpopular.net is here to help with your SEO.